Reflections
Looking back
is to look at time as a mirror;
one that reflects
who we were,
who we are,
and who we aspire to be...
This publication was prepared to commemorate the twentieth anniversary of the Security Intelligence Review Committee. More than a summary of the functions and landmark reviews conducted by SIRC, it serves as a record of the people who have worked for and have had an impact on the activities of the Committee since it was first established. From Committee chairs to members, from executive directors to staff, all have served Canada with distinction by ensuring that national security intelligence remains accountable and effective.
The publication is organized in three themes: a look back at SIRC's past, a look ahead to the challenges in the future and an overview of SIRC's role today.
The Committee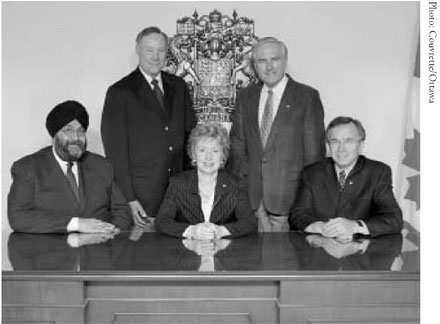 Chair: The Honourable Paule Gauthier (centre)
Left to right: The Honourable Baljit S. Chadha, The Honourable Raymond Speaker, The Honourable Roy Romanow, The Honourable Gary Filmon
Twenty years of independent external review of security intelligence in Canada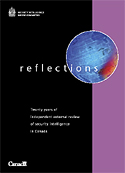 Reflections is published by the Security Intelligence Review Committee (SIRC). Some of the opinions expressed in this publication do not necessarily reflect the views or opinions of SIRC.
Concept and direction : Tim Farr
Research and writing : Patrick Gant, thinkit communications
French translation and editing : Maurice Audet
Design : Karin Torrey, Pivot Point Design
This publication may be reprinted in whole or in part with credit to the Security Intelligence Review Committee.
Public feedback concerning this publication is welcome. Please address all correspondence to :
Security Intelligence Review Committee
P.O. Box 2430, Station D, Ottawa, Ontario K1P 5W5
(613) 990-8441
www.sirc-csars.gc.ca
Cat. No. PS108-1/2005
ISBN 0-662-68695-0
© Security Intelligence Review Committee, 2005
Printed in Canada
Date modified: