Ms. Marie-Lucie Morin, P.C.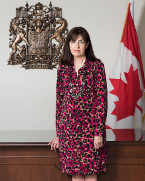 Marie-Lucie Morin was appointed on May 1, 2015, as a Member of the Security Intelligence Review Committee (SIRC).
During her distinguished career as a federal public servant, Ms. Morin held a number of senior positions, including Executive Director for Canada, Ireland and the Caribbean at the World Bank, National Security Advisor and Associate Secretary to the Cabinet. She acquired extensive international experience during postings to San Francisco (United States), Jakarta (Indonesia), London (United Kingdom) and Moscow (Russia), as well as in her role as Canada's Ambassador to the Kingdom of Norway with concurrent accreditation to the Republic of Iceland.
She retired from the Public Service in December 2013.
Most recently, Ms. Morin has served as an advisor on the Minister of Transport's panel conducting a statutory review of Canada's transportation legislation.
Date modified: