Gene McLean, P.C.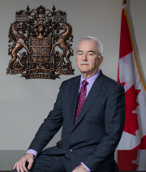 Gene McLean was appointed on March 7, 2014, as a Member of the Security Intelligence Review Committee (SIRC).
Gene McLean was born in Newcastle, New Brunswick. He holds a diploma in business management, a degree in political science, and a degree in organizational communications from the University of Ottawa. He has completed the academic requirements for the Governance Essentials Program for Directors through the Telfer School of Management.
Mr. McLean is an executive security advisor and principal of McLean Security Advisory & Associates Inc. He specializes in consulting on security and enterprise risk management for corporate, government and private sector organizations. Mr. McLean has over 35 years of experience. He was previously Vice President and Chief Security Officer for TELUS Corporation. In this role, his mandate was to protect personnel and physical assets, to secure the network, to provide for the protection of critical data and intellectual property, and to ensure regulatory compliance relating to the release of information in the protection of customer privacy. He was also chairman of the TELUS Information Security Steering Committee, where he was directly involved in the development of national security policy and procedures for TELUS. As well, he was a member of the TELUS Compliance Council and the TELUS Ethics Work Group.
Mr. McLean is a life member of the Canadian Association of Chiefs of Police and an associate member of the International Association of Chiefs of Police. He also served as Director of the not-for-profit Society for the Policing of Cyberspace.
In 2006, Mr. McLean was the first recipient of Canadian Security magazine's "Canadian Security Director of the Year" award. In March 2011, he was appointed by Ann Cavoukian, Information and Privacy Commissioner of Ontario, as a Privacy by Design Ambassador.
Date modified: