Deborah Grey, P.C., O.C.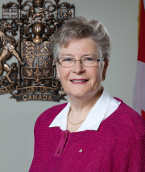 Deborah Grey was appointed on April 22, 2013, as a Member of the Security Intelligence Review Committee (SIRC). On January 24, 2014, she was appointed as Interim Chair.
The Hon. Deborah Grey was born on July 1, 1952, in Vancouver, British Columbia. She graduated from the University of Alberta in Edmonton with a Bachelor of Arts and a Bachelor of Education.
Ms. Grey began her career as a high school teacher at Alberta's Frog Lake Indian Reserve and in Dewberry, Alberta, from 1979 to 1989.
Following this, Ms. Grey served as a Member of Parliament in Alberta for the Reform Party, the Canadian Alliance and the Conservative Party of Canada from 1989 until her retirement from elected office in 2004. She was first elected in a by-election in 1989, and re-elected in 1993, 1997 and 2000. In her political career, Ms. Grey distinguished herself as the Reform Party's first Member of Parliament and Canada's first-ever female Leader of the Official Opposition.
Following her career in politics, Ms. Grey became a professional speaker with the National Speakers Bureau, addressing groups across Canada on leadership, balancing work and play, and relationship building. She has been involved with many charity initiatives: as Honourary Chairman for Ride For Sight, the Edmonton Dream Centre (a women's shelter), Ride For Dad (for prostate cancer), and Santa's Anonymous Toy Run.
In 2011, Ms. Grey was a member of the International Republican Institute Electoral Observation Mission in Nigeria, also known as the IRI EOM. That same year, she was invited to participate in the Women's Democracy Network (WDN) in Lagos, Nigeria.
In recognition of her public service, Ms. Grey was appointed an Officer of the Order of Canada in 2007. She has also received the Queen Elizabeth II Golden and Diamond Jubilee Medals. In addition, she received the Alberta Centennial Medal in 2005 and an Honourary Doctorate of Laws from Trinity Western University in 2009.
She is married to Lewis and they enjoy riding their matching Honda Valkyries.
Date modified: